Detailed information on products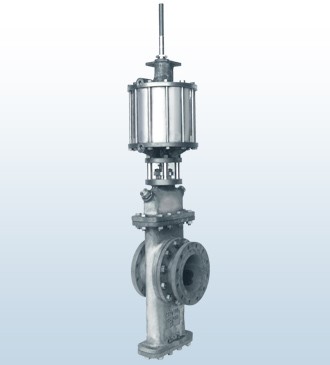 ESPERO Gate valves
Advantages
Espero gate valves have been used in high-temperature petrochemical plants, such as ethylene manufacturing plants and plants for manufacturing fluid containing solids (particles, powder, slurry, etc.) for many years. In addition to the standard type, venturi type, fluid recovery type, tapered pipe-attached type, and the shorter face-to-face distance type are available. You can select the valve according to the application.
Espero gate valves have a construction that seals fluid by contact pressure (pressure acting on contact surfaces of parts) between the flat plate valve (valve element) and the elastic ring packing. The plate valve is held between the two ring packings.
The plate valve has a hole in a size equal to the valve port. Opening and closing are performed by moving this hole in the sliding plate vertically.
At both full opening and closing, the ring packing is protected by metal parts in four places to avoid exposing the packing to fluid to prevent damage due to erosion.
When long-term use results in a reduction in the contact pressure between the plate valve and the ring packing, leading to valve seat leakage, simple tightening of the ring packing can adjust the contact pressure and recover sealing performance, enabling continuous use.
Valve maintenance is performed simply be replacing the ring packing.
The ring packing can be selected from several types according to the specifications.
At full opening of the valve, the pipe-like fluid passage of the valve body significantly reduces fluid resistance, differing from ordinary gate valves.
Espero gate valves with position seat construction do not generate shock force at full closing and are suitable for automatic operation by hydraulic, pneumatic, and electric power, differing from torque seat construction that closes the valve by strongly pressing the valve disc onto the valve seat like ordinary gate valves.